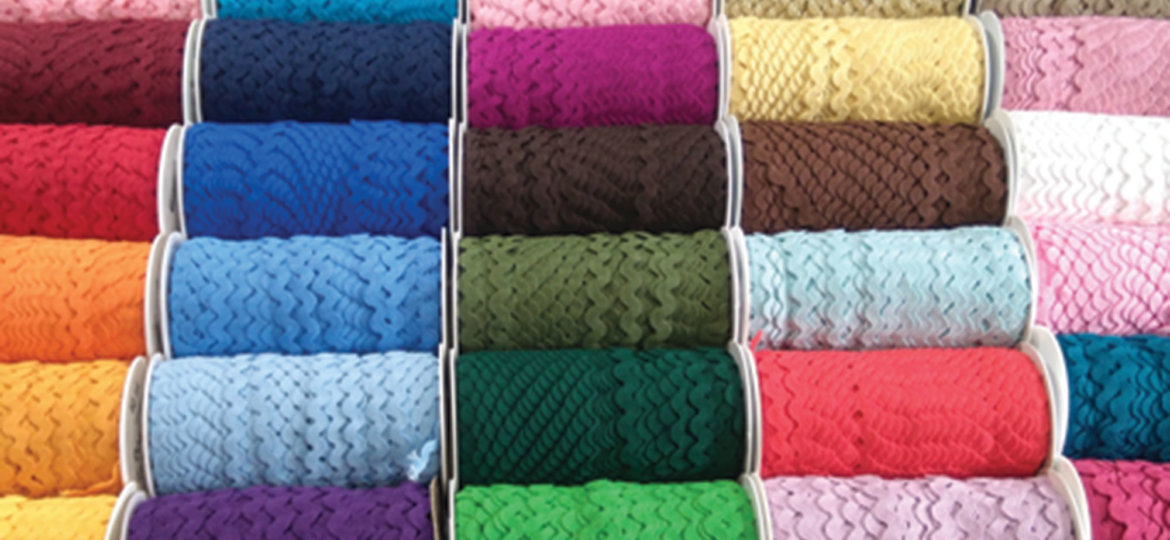 We all know that ric rac tapes are versatile and adapt to so many different projects and creations, though it is good to be reminded of it from time to time.
The traditional use in the old days was as decorations on dresses (girls' dresses, Flamenco costumes) or on home items (around the edge of tablecloths or towels). However, today we find ric racs have entered the world of textile fancy jewels, a sector that has been growing in popularity over these past few seasons.
Fabric jewels
Necklaces, earrings, bracelets…have until now only been the exclusive terrain of metal (gold, silver, copper, brass) with some additional appliqués (semiprecious stones, wood beads or synthetic materials). But today it is fabric jewels that have come up to the frontline because of fashion trends, and fashion shows or magazines echo this phenomenon so that ric racs become important elements, as do so many other ribbons and cords, and these are all products we find in the collections by Miguel García Fábrica Textil.
New additions every season
The company presents two collections every year. We find the usual classics, in different colours, widths and materials or compositions. Ric racs with Lurex glitter, among these additions, have also become a classic because they are always widely sold. Of course, along with the more traditional products, we find novelties every season. We mentioned above that ric racs are versatile, and we can ratify this.
April Fair
Earrings made with ric racs have been around for some seasons already, and they are reinterpreted time and again. During the April Fair, we found Andalusian women wearing them, sometimes in larger versions that enabled them to combine two symbols of Flamenco costumes: earrings, and flowers.
On the streets
We find necklaces made from ribbons, oversized flowers or bouquets in contrasting colours set trends this season, perhaps in a nostalgic comeback of the '70s when the flower passion was so successful and ad-lib styles called for pristine whites. The Vintage spirit rediscovers new uses and applications, and this is the source of inspiration for fashion creators and creative people who love to experiment and develop new ideas.